Love's Fuels the Vision to Change Kids' Health through Sept. 30
Love's Travel Stops wants to help Gundersen Health System, through Children's Miracle Network Hospitals, transform kids' and families' lives in the future.
Children's hospitals are at the frontlines when it comes to protecting kids' health. But they can't do it alone. Not only does Love's Travel Stops provide fuel to customers, including those who move consumer products that impact society, but they also change kids' health.
When you are visiting the Love's Travel Stops in Tomah, Wis. and St. Charles, Minn. from Aug. 26-Sept. 30, you can buy a balloon for $1, $5, or $20 benefiting Children's Miracle Network Hospitals at Gundersen. NEW in 2022, customers paying with credit card can donate right on the pin pad!
Love's is also participating in National Coffee Day on Sept. 29. Use the Loves' Connect App Barcode for $1 coffee that day, and your dollar will be donated to CMN Hospitals. Those dollars add up quickly to help local kids!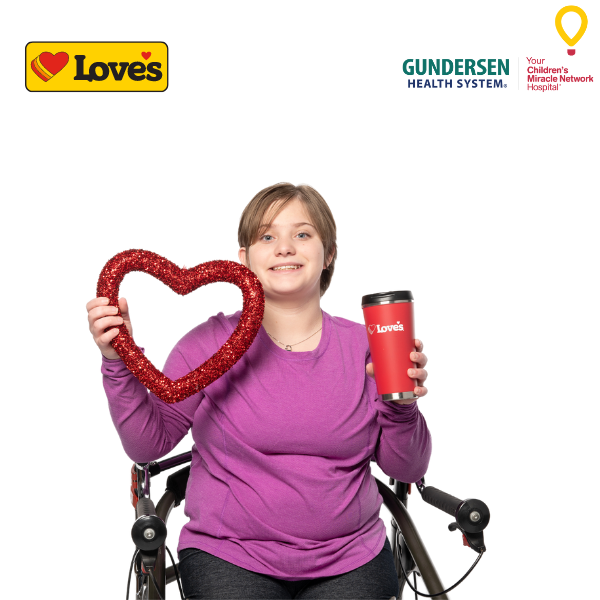 Donations assist local member hospitals as they provide services such as child life, pet therapy, outdoor gardens and more to help kids cope under stressful situations. Through these donations, Gundersen can provide treatments and healing patients desperately need today so that they can fulfill their potential for tomorrow.
Patients like Araina, who was born with Spina Bifida and Arnold-Chiari Malformation Type 2. Now 17, she has had more than 30 surgeries. Children's Miracle Network Hospitals at Gundersen has been there for Araina and her family since her first surgery when she was just hours old.
"CMN gives families relief from the unexpected events that can happen to their child," said Araina's mom, Shannon. "Families need this and to know they are not alone."
CMN Hospitals has helped Araina's family by providing food vouchers for her parents during hospital stays. It also funded a hand trike for Araina when she was younger. Today, Araina is an active senior in high school who recently won three races at the State Games of America in Ames, Iowa. She also enjoys studying gemstones and making jewelry.
Donations to Children's Miracle Network Hospitals support the programs that help kids like Araina. Thank you to Love's Travel Stops for helping us change kids lives so that we can change the future!