For the Love of the Kids
Love's Travel Stops may be simply a stop on a road trip for most families. A place to fuel up and stretch your legs; but when it comes to changing kids' health, Love's is a lifeline. Love's Travel Stops has been a dedicated Children's Miracle Network Hospitals partner since 2003, raising over $220,000 for KU Medical Center often a dollar at a time from people just passing through.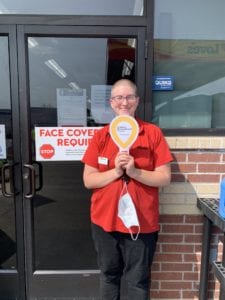 The next time you happen to be in Ottawa, Kansas hop off I-35 at exit 183 and stop in at Love's. You may be greeted by an energetic young woman named Christine (pictured). She confidently asks every single customer to donate to CMN and thanks them enthusiastically when they do. Asking is more than just a task for Christine, Children's Miracle Network is one of her favorite causes and she looks forward to fundraising each year. One of best friends was not expected to live past their teenage years, but thanks to a Children's Miracle Network hospital, they are happy and healthy today. She understands that saving kid's lives happens a dollar at a time, and if she doesn't ask that is a dollar a child may need.
If you venture further north to Love's Travel Stop in Eagleville, Missouri you will find Amanda Tucker buzzing around helping customers and encouraging her team. If you manage to get her to slow down for a moment, it doesn't take long for her to share why Children's Miracle Network is near and dear to her heart. Amanda's children and grandchildren have needed the care of Children's Miracle Network Hospital. She sees each donation as an "insurance policy" that makes sure the best care and support is available to any family that needs it.
So, the next time you happen upon a Love's during their CMN campaign, fuel up, stretch your legs, make your donation, and know that your "yes" could mean the world to the person behind the counter.