UNIVERSITY OF FLORIDA WINS THE LOVE'S IDEAL BUSINESS PARTNER PITCH COMPETITION AT DMLC 2021!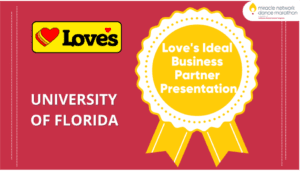 For the past six years, Love's Travel Stops & Country Stores has been an extraordinary partner to Miracle Network Dance Marathon. Love's has shown continued dedication to building strong communities, building a better future for families, and building an entrepreneurial spirit in Dance Marathon students across the country.
As part of Dance Marathon Leadership Conference in 2021, Love's was the presenting sponsor of the Ideal Business Partner Pitch Competition. The Love's Ideal Business Partner Pitch exercise is an opportunity for Miracle Million Club Dance Marathon programs to go through a mock corporate partner pitch presentation in front of CMN Hospitals and Love's team members who have years of experience in building meaningful partnerships and leading cause marketing in the nonprofit sector.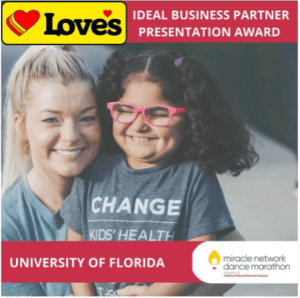 This experience is designed to help build the core competency of student leaders in identifying and valuing their Dance Marathon program assets, building a pitch deck, and executing a pitch. Ultimately, it serves as an opportunity for continued growth and development of our student leaders. In their sponsorship of the competition, Love's is committed to fostering the entrepreneurial spirit of Dance Marathon and helping this movement have the biggest impact possible in their local communities.
Dance Marathon at the University of Florida (DM at UF) was the winner of this year's Ideal Business Partner Pitch competition. As their prize for winning, DM at UF will receive a $5,000 donation to their local hospital made by Love's.
Founded in 1964 by Tom and Judy Love, The Love's Family of Companies continues to grow. Love's has more than 510 stores in 41 states and is continuously expanding. Love's has a long-standing tradition of supporting Children's Miracle Network Hospitals and is proudly celebrating over 20 years of making miracles with local children's hospitals and has been a proud partner of many of the Dance Marathon programs who attended DMLC.