Happy National Truck Driver Appreciation Week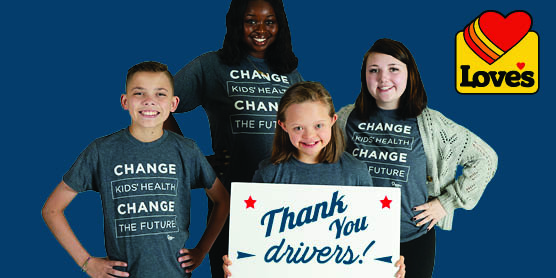 To those that keep America running, we salute you. This year, National Truck Driver Appreciation Week is September 13-19 and the week means even more this year considering the crucial role professional truck drivers have played during the COVID-19 pandemic.
Throughout the pandemic, our trucking and transportation partners–Love's, Knight-Swift Transportation and Walmart have continued to help deliver essential supplies across the United States.
This month, both Love's and Knight-Swift are working hard to raise funds for children's hospitals in the areas they serve. By funding children's hospitals through customer and employee donations, CMN Hospitals are transforming how they meet the urgent needs brought on by the pandemic, while also maintaining an exceptional standard of care and preventing and preparing for health challenges to come.
Kids like Evan are helped every day thanks to generous contributions. Evan is no stranger at his children's hospital.
When Evan's mother was 20 weeks into her pregnancy, physicians diagnosed Evan with spina bifida, a defect effecting the spinal column, which occurs when the spine and the spinal cord don't form properly.
Once Evan was born, he was rushed to his local children's hospital for a life-saving surgery closing a hole in his back. For the first few years of his life, Evan would have multiple surgeries including a surgery to provide Evan with a trach and a feeding tube after he had trouble swallowing.
Thanks to donations, Evan is an active boy who walks, swims, loves to fish, canoe and he plays baseball for the Miracle League, an inclusive sports league in Arkansas.
With nearly a decade worth of visits to his children's hospital, Evan and his family are thankful to receive care close to home now that donations have helped support a new, additional children's hospital location even closer to home.


With the help of dedicated drivers crisscrossing our nation, children's hospitals like Evan's can save more lives and protect our communities' collective futures.
Join us to thank these heroes of the road—who keep America moving!